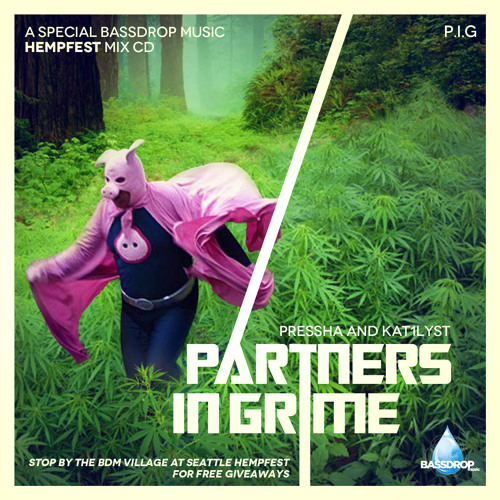 P.I.G. (Partners In Grime) - BDM Village Hempfest Promo Mix on SoundCloud
BASSDROP MUSIC
and
PARTNERS IN GRIME
bring you THE mix of the summer!
Pressha
and
Kat1Lyst
have joined forces once again to compile another super sick PIG mix available to you by Bassdrop Music at the low cost of FREE! Join the crew at this years Bassdrop Music Village at Seattle Hempfest (BDM Village) and grab your hard copy CD of this exclusive mix!
Partners In Grime will be taking a crack at it again during the first day of the BDM Village, Friday August 17th! Catch their set, get some free goodies and have a badass time while you chill at the BDM Village stage at Seattle Hempfest!
Get event details here:
bit.ly/BassdropMusicVillageSeaHempfest2012
Don't miss PARTNERS IN GRIME in action at CROWD CONTROL, the Sunday BDM Village Afterparty at Chop Suey in Seattle! Find event details here:
bit.ly/CROWDCONTROL-BDMVillageAfterparty
TRACKLIST:
01. Kicks N Licks - Tribal
02. Diplo & Oliver Twitz - Go
03. K Theory - Notorious
04. Foreign Beggers - Flying To Mars (12th Planet Martian Trapstep Remix)
05. Die Antwoord - I Fink U Freeky (CRNKN Remix)
06. Chromatic - Jaw Dropper
07. Omeguh - 8oh8
08. Hot Chip - Look At Where We Are (Major Lazer Remix)
09. Luminox - Leisure
10. Flosstradamus - Lana's Theme
11. The Cataracs - All You (Kid Cedek 'ATL Trappin Remix)
12. Bingo Players - Rattle (Luminox Remix)
13. Dj Slink - Who's Afraid Of Trap
14. Robotic Pirate Monkey - Pantone Polygamy (Crushendo Remix)
15. Notixx - The Most Fresh
16. :DFace - Trapology
17. Mydas - Fall
18. Pimp C Ft. Mike Jones & Bun B - Pourin Up (Gladkill Remix)
19. The Digital Connection - On A Brighter Note
20. Active Child - Hanging On (Chrome Wolves Bootleg)
21. Phaeleh - Afterglow (R.E.G. Remix)
22. DEV79 Feat SLIX - Get 2 Know (Gladkill Remix)
23. Stiletto - Nothing Never Ends (Stephan Jacobs Remix)
24. Trey Songs - Bottoms Up (ChrisB. Remix)
25. Fisk - Peace Patrol (Crushendo Remix)
LIKE PARTNERS IN GRIME a/k/a PIG on Facebook to get future gigs they are playing at:
www.facebook.com/pages/Partners-I…/171784602876641
LIKE BASSDROP MUSIC on Facebook and you'll get more FREE music and upcoming event details:
www.facebook.com/BassdropMusicUSA
---